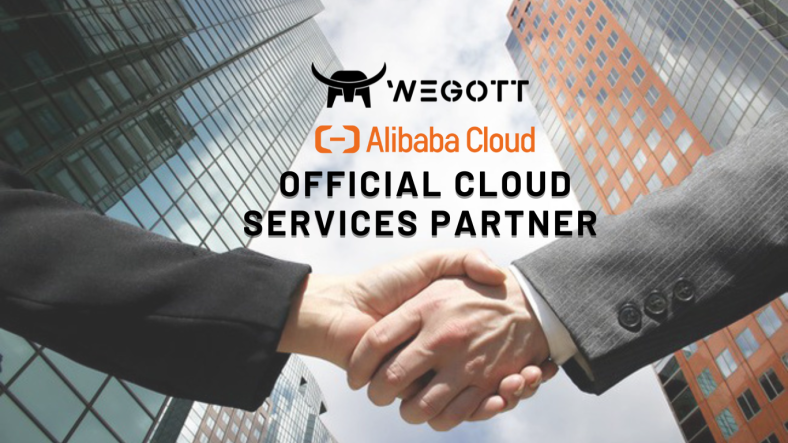 WeGoTT formally joins Alibaba Cloud as a partner
On September 6, WeGoTT became Alibaba Cloud's partner. With this greater benefit, WeGoTT will be easier to accompany and support businesses. The event not only marks the cooperation between the two units but also the commitment to bring the best quality services to customers in the future.
WeGoTT Officially Becomes Alibaba Cloud Partner
In 2022, WeGoTT formed a global strategic partnership with Alibaba Cloud Computing to provide global visual cloud computing services. Welcome to try our platform and enjoy our services.
WeGoTT participates in Alibaba Cloud to provide individuals, organizations and businesses with quality cloud services with greater scalability, resilience, performance and innovation.
Becoming a partner of Alibaba Cloud proves that WeGoTT is a reliable and capable partner that fully meets Alibaba's criteria for:
Scale, ability to invest in the development.
The capacity of the staff, and the ability to operate the system/service of Alibaba Cloud.
Own Alibaba Cloud Professional Certifications.
The ability to consult and implement customers' projects on the cloud computing platform and other services – based on the criteria of optimizing resources, costs, and project implementation time.
Why Should You Use Alibaba Cloud Service?
Alibaba Cloud is currently the leading cloud provider in China and Asia Pacific, as well as the third largest in the world, and a direct competitor to AWS. Alibaba Cloud, founded in 2009, is a global leader in cloud computing and artificial intelligence, serving thousands of businesses, developers, and government organizations in over 200 countries. 
Alibaba Cloud is dedicated to assisting its customers' success through data processing capabilities and dependable and secure cloud computing solutions. Besides, Startups can benefit from unlimited storage space with high data security. Flexible cloud computing payment on Alibaba Cloud can help businesses save a lot of money.
 Why Should You Use Alibaba Cloud Services via WeGoTT Partners?
Customers who sign up for Alibaba cloud services through WegoTT will benefit from the following benefits:
WeGoTT is dedicated to providing high-quality services in accordance with the Premium Partners standards set by Alibaba Cloud.
Concerning services: Customers have complete ownership, management, and operation of their accounts; infrastructure service quality commitments are consistent with Alibaba Cloud's service quality commitments; Solutions/services are optimized and improved to fit the Vietnam region and customer business characteristics.
Reasonable price: As a Premium Partner of Alibaba Cloud, WeGoTT is dedicated to providing the best price to every business.
Concerning pricing, customers appreciate competitive pricing (equal to or better than Alibaba's); To use Alibaba Cloud/WeGoTT discount programs; customers may also receive incentives under the policy exclusive to Alibaba Cloud partners; Assist customers in making payments and issuing invoices quickly and easily.
Moreover, WeGoTT always has a credit program and credit packages for startups.
Direct support from our certified experienced experts
In terms of support, we have a strong, experienced technical team that is an Alibaba Cloud Associate. Customer service is available 24 hours a day, seven days a week via hotline/email/live chat, with a maximum response time of 15 minutes; all Alibaba Cloud support terms apply.
Customers can put their trust in WeGoTT when signing up for Alibaba Cloud services.
Services Provided by WeGoTT
WeGoTT  is a leading cloud consulting firm that also offers exceptional professional cloud services in Vietnam. We conduct cloud technology research and development to solve business problems. Furthermore, we are ready to accompany you on your innovation journey with a team of dynamic, talented engineers who always prioritize user-centric solutions.
We believe that cooperation between the two units is an important premise, opening up many potentials and opportunities for development. This cooperation agreement is an official and significant foundation, certifying a long-term and sustainable collaboration that will contribute to the future strong growth of both parties.
Once again, congratulations on this collaboration! I am confident that in the near future, WeGoTT and Alibaba Cloud will grow even more, bringing the best solutions to domestic and international businesses!